8 Poshmark Reseller Mistakes (and how to avoid them!)
Disclaimer: Please note that this post may include affiliate links and I will earn a commission if you make a purchase with those links. As an Amazon Associate I earn from qualifying purchases. This helps support the blog. Thanks for your support!
Read Time:
5 Minute, 40 Second
In my 5+ years selling the on Poshmark app, I've made plenty of "rookie" Poshmark reseller mistakes.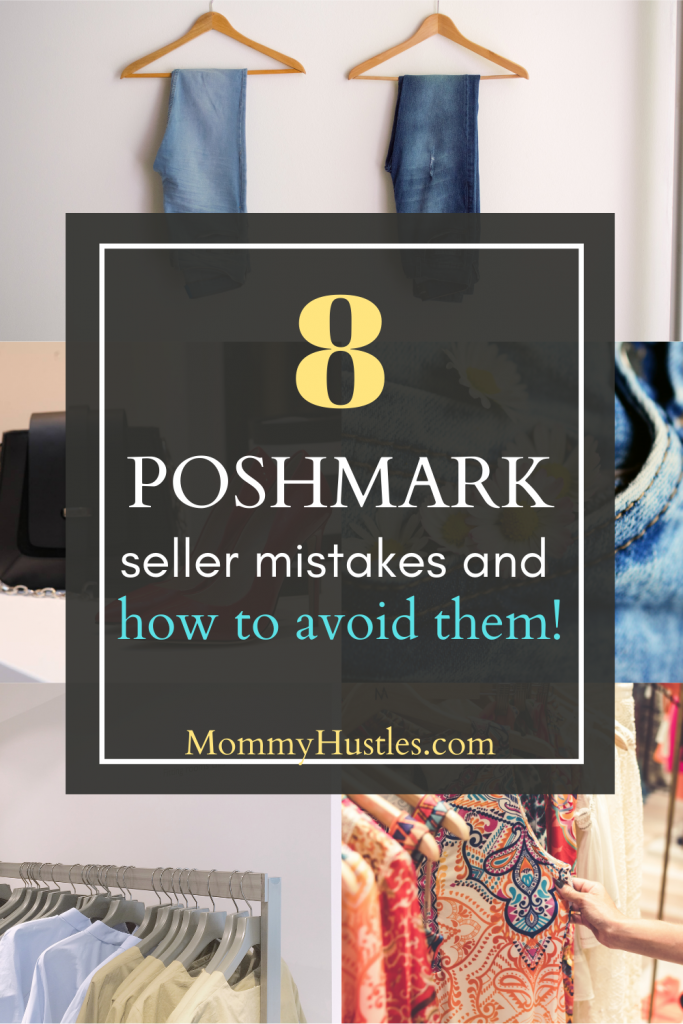 Let me help you by sharing some tips on some of the common Poshmark reseller mistakes and how to avoid them. Most of these will help, no matter what platform you sell on.
Poshmark is by far my favorite app for reselling fashion. You can sign up here using code "MOMMYHUSTLES" for a free $10 credit to shop with!
You Aren't Posting New Items
It is so important to keep your closet fresh. The more items you have in your Poshmark closet, the more items that are shared around the platform which in turn gets you in front of so many more eyeballs. You may even find that you have repeat buyers!
Create an Inventory System
If there is one regret from my early days as a Poshmark reseller, it's that I did not have a proper inventory system. It doesn't need to be fancy but it does need to work for you.
If you are going to make this a business, you need to be organized to track your sales AND to find your items when they sell!
You never want to cancel a sale because you lost an item (maybe it's buried somewhere deep!) or it was damaged. Create a physical AND a digital system or spreadsheet right from the start so you always know what you have on hand and where to locate it when it sells.
Selling Prohibited Items
It's a Poshmark eseller rookie mistake that can so easily be avoided. When you're early in building your selling profile, it's less risky to sell a non-compliant item, obviously. And when you've grown a Poshmark closet like mine with over 150,000 followers, it's just not worth the gamble. From what I hear, Poshmark will shut you down and there isn't anything you can do about it.
So, be sure to familiarize yourself with what is non-compliant. Also go with your gut.
Also, they are often adding new categories so it's important to keep your pulse on what is changing.
You can find Poshmark's Prohibited Items Policy here. Here is a small excerpt to give you a general idea of what is considered acceptable:
"Poshmark is a marketplace for women's, kids' and men's fashion and accessories, new personal care products and select home goods. Please refrain from listing items that do not fall into these categories, as they clutter the marketplace and make shopping more difficult and less enjoyable for others.
In general, pre-owned items can be listed on Poshmark if they are clean and in good condition. All items must be clearly and accurately represented. Makeup and personal care products must be new, alcohol-free and aerosol-free. Any liquid products must be new and in their original sealed packaging."
Short Descriptions/Lack of Keyword Usage
It's really important to be ask descriptive as possible in your listings.
You'll find that Poshmark items rank reasonably high on Google and you can also push them over to Pinterest. Because these search engines will help your items get in front of many people, you'll want to be as descriptive as possible and optimize your SEO as well.
Also, being as descriptive as possible will save you from receiving many questions on your items if you include it in the listing. When the potential buyer has all of the details they need, they will buy that much quicker.
Here are some key points you'll want to include in the description field:
Brand
Size
Materials
Measurements
Any notes in regards to the over condition (even if you've included photos of any imperfections, this is important!)
Not Dropping Prices
Sometimes there are items in your Poshmark closet that will just sit there. There may be many "likes" on it but no offers have come in. Be sure to do at least a 10% price drop periodically to try to get the item to move. You can also do an "offer to likers" to see if you can get a sale.
Diversifying Your Poshmark Reseller Inventory
If you truly want to turn reselling clothes into a real side business, it's really important to diversify the items that you're selling. When I am out thrift shopping for items to flip, I am looking at all sizes.
I do tend to shy away from children's clothing these days because they tend to sit longer for me. But if you want to focus on kid's clothes, it helps to have a variety of brands and sizes.
Pro tip: plus size items do really well so definitely do not pass on those when you find a great deal!
Not Sharing Your Items
Although it can be tedious, it is vital to your Poshmark reseller success that you are sharing your items within the app on a somewhat regular basis. They have a unique algorithm that I'll never begin to comprehend but it is abundantly clear that sharing produces more sales.
Poor Lighting In Photos
Take pride in your photos! They certainly do not need to be professional, especially when you are starting out. Good lighting is key in taking quality photos.
I use the MOUNTDOG 1350W Photography Continuous Softbox Lighting Kit and it has done wonders for my Poshmark closet.
For under $50, you can get a professional lighting kit that will make you look like a pro seller and get your items sold faster! My Poshmark office and storage room is in my basement, which barely has any natural light at all so this takes my items to the next level!
Learn more about what tools I use for reselling items on Poshmark here.
You Aren't Cross-posting on other Reselling Apps
Poshmark is my favorite place to resell my thrifting finds. However, it is not the only place I sell and it shouldn't be yours either. When you aren't cross-listing across the other reselling apps out there such as eBay and Mercari, you are missing out on potential sales. Why not diversify so you can sell your items quicker?
Vendoo is an excellent option and game changer in the world of cross-listing. With this listing app, you can post listings on Poshmark, eBay, Mercari, Etsy, Grailed, Depop, Tradesy and Kidizen.
Let's face it, posting across more than one platform is very time consuming. But with Vendoo, you can list on ALL of them at once!