Here's How to Get PAID With The Poshmark Affiliate Program
Disclaimer: Please note that this post may include affiliate links and I will earn a commission if you make a purchase with those links. As an Amazon Associate I earn from qualifying purchases. This helps support the blog. Thanks for your support!
Read Time:
3 Minute, 10 Second
Have you heard that you can now become an influencer with Poshmark? Recently, the Poshmark Affiliate program launched and added a fun new way for their posh ambassadors to earn extra income.
As a Poshmark seller, I am always looking for new and innovative ways to get eyeballs on my closet.
I also love to spread the word about Poshmark and help others learn how to use it to earn extra cash and have fun selling fashion!
To become a Poshmark Affiliate, you must be at least one of the following:
A Posh Ambassador
A social media influencer who has connected 1 or more social accounts to Poshmark and has at least 5,000 followers on either Twitter, YouTube, or Instagram.
Lucky for me, I am in the first category while I grow my social media accounts for this blog. For now!
Poshmark is by far my favorite app for reselling fashion. If you don't yet have an account, you can sign up here using code "MOMMYHUSTLES" for a free $10 credit to shop with!
How to Get Started with the Posh Affiliate program
In the Poshmark app, you can find your available campaigns by going straight to the Account tab > My Seller Tools > My Campaigns
This is where you will also find your custom tracking link, which allows Poshmark to track who you have sent to their website and give you credit aka cash for it!
Once you are in My Campaigns, you will find the current campaigns that are available to you.
The campaign prompts from Poshmark are also a great way to get comfortable with taking great photos for social media posts as well as writing great copy!
Here are a couple of quick facts about being a Posh affiliate:
You can only participate in 1 campaign every 14 days
The social media accounts you use MUST be connected to Poshmark to get credit
Make sure your post is set to "public" if posting on Facebook

How to Submit Your Poshmark Affiliate Program Campaign
It's super easy to submit your campaign once you have posted it. Make sure it is LIVE when you submit in case they get to your submission quickly!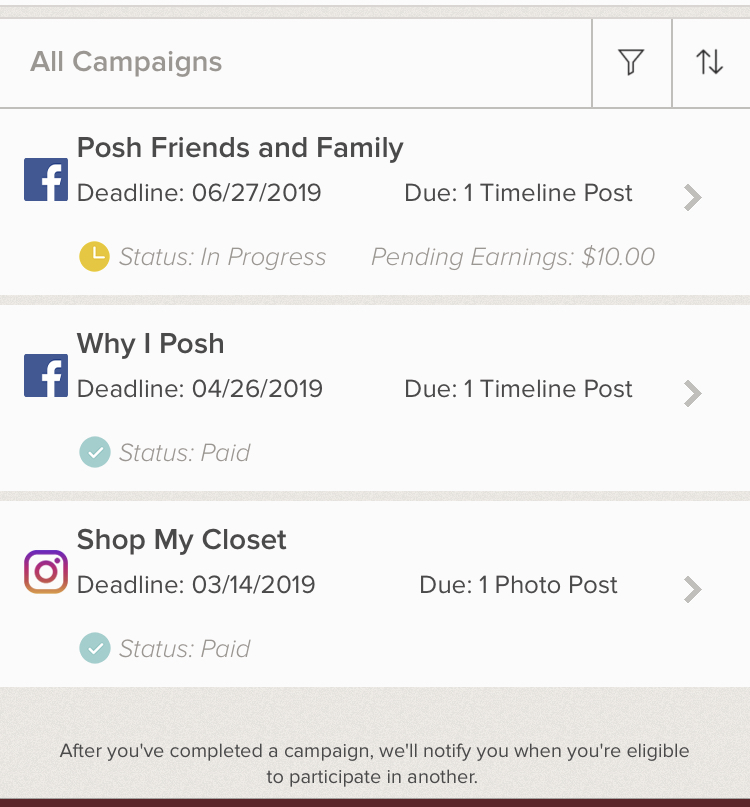 All you'll need to do is submit the URL link to your social media post (just one of them if you are using multiple accounts!)
Copy the social media post URL to your Posh Affiliate campaign.
Go to My Campaigns.
Select the campaign.
Paste the link under your post and submit.
How You'll Get Paid
From my own experience, it happens pretty quickly! They suggest that it takes 3-5 business days but my payments have come quicker than that. You'll receive the payment in your account to either use as shopping credit or you can cash it out the same as you would with your regular Poshmark earnings.
Have you started using the Posh Affiliate program yet? If so, I would LOVE to hear about your experience so far (both the good and the bad!)
PS: Do you sell across multiple platforms? Vendoo is an excellent tool and game changer in the world of cross-listing. With this listing app, you can post listings on Poshmark, eBay, Mercari, Etsy, Grailed, Depop, Tradesy and Kidizen.
Let's face it, posting across more than one platform is very time consuming. But with Vendoo, you can list on ALL of them at once!