Which Reselling App is Better: Poshmark vs Mercari?
Disclaimer: Please note that this post may include affiliate links and I will earn a commission if you make a purchase with those links. As an Amazon Associate I earn from qualifying purchases. This helps support the blog. Thanks for your support!
Read Time:
6 Minute, 41 Second
When you're looking for the best app to resell on, Poshmark vs Mercari, it's important to consider the pros and cons of each.
Both Poshmark and Mercari are well-known fashion reselling apps and a simple way to make money online. They both also allow a wide variety of items for you to resell, such as clothing, makeup, home goods, and more.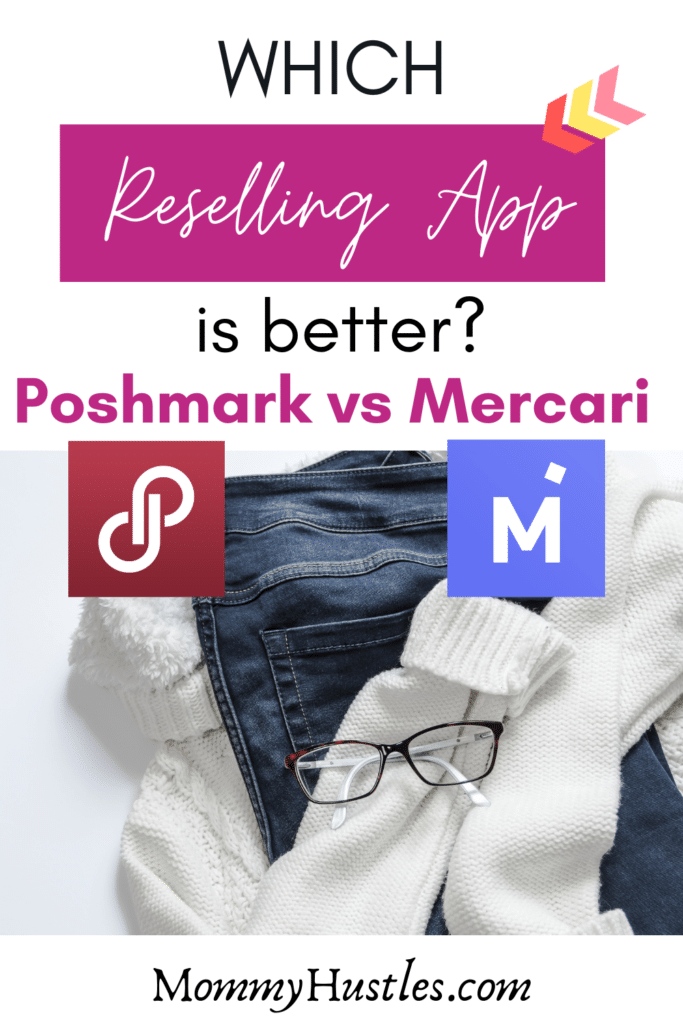 Reselling fashion, luxury items, and designer clothes that I purchase at thrift stores, consignment stores, flea markets, and more is one of my favorite side hustles.
What you should consider is how are they different, which is preferable, and which will work better for you? Poshmark vs Mercari? It's important to consider the pros and cons of both reselling apps.
What is Poshmark?
Poshmark is a social sharing app for reselling that has been around since 2011. That means several years of experience and steady growth. Because of that time and experience, Poshmark has grown to over 50 million users – both buyers and sellers. There are over a billion items sold on Poshmark so why not get your piece of the pie?
Selling on Poshmark is one of my favorite income streams. Making a good income on Poshmark takes time but it is definitely worth it.
If you don't yet have an account, visit Poshmark.com and use the code "MOMMYHUSTLES" at signup for $10 in spending cash! This also gives you access to start listing and selling your items within minutes.
What is Mercari?
Mercari is another reselling app that competes with Poshmark. Mercari launched in 2013 and has over 15 million users. Selling on Mercari is another way to make income as a reseller.
If you don't yet have a Mercari account, create an account here to redeem $10 in spending cash! Earn an extra $20 off when you make your first $100 in completed sales. To claim your coupon, please access this invite link from an Android or iOS mobile phone and download the app.
Selling Fees
Poshmark:
Free to list
Selling fee of $2.95 for items under $15
Selling fee of 20% for items over $15
Mercari:
Free to list
Selling fee of 12.9% + $0.30
Shipping Costs
Poshmark:
One thing I love about Poshmark is how they simplify the entire shipping process. Poshmark makes it so easy in that they charge a flat fee no matter what the item is, up to 5 pounds. They require the buyer to pay the shipping fees. They use USPS Priority Mail with printable flat rate shipping labels so your buyer receives the item typically within 2-3 business days.
You even have the option to offer free shipping to your customers (you'd pay for this out of your seller fees).
This means that you don't have to weigh your item, you don't have to decide how to ship it, it's just done. You print out the shipping label and…Voila!
Learn more about how I turn my closet into cash on Poshmark.
Mercari:
Shipping on Mercari is pretty easy as well, however, you do have to choose the shipping vendor and then enter the weight and size of the item to determine the shipping rates, including USPS Priority and First Class.
Besides choosing that calculated shipping options, you could choose "Free Shipping" for buyers if you would like. Then the shipping costs come out of your profits when the item sells.
Ease of Use
Poshmark:
The listing process for selling on Poshmark is quite easy also.
First choose a good title for your item. Be sure to include the brand, item type, and any other applicable description that will fit, such as color and size.
Then choose up to 16 photos, which is wonderful since you can really show and be specific with what your item truly looks like. Be sure to include as many photos as you'd can, making sure the photos are clear, bright, and have a white background.
After entering a few specifics, such as size, type, brand, and price…you are ready to post and your item will be ready for purchase! It's such an easy process to sell on Poshmark.
Mercari:
The effort it takes to list is minimal:
Easy and understandable, like Poshmark.
Mercari allows up to 12 pictures, which is plenty to show off your item as long as you make sure to include all of the relevant details.
Funds Availability
Poshmark:
Once the item has been delivered and accepted by the buyer the funds get released into your Poshmark account. If they don't accept within 3 days your funds automatically get released and you get paid. Once your Poshmark seller account is connected to your bank account, you can transfer the money. It usually takes 1-2 business days to hit your account.
Mercari:
Once the item is delivered and the buyer accepts the item, the funds are released automatically into your Mercari account. Like Poshmark, Mercari has the same feature so if the buyer doesn't accept the item within 3 days, the funds get automatically released.
Both platforms have a 1-3 day turnaround on direct deposit, though I've found it usually takes around 1 day for me. This can also vary by your bank.
Pros of Poshmark vs Mercari
Poshmark:
Streamlined Shipping Process for selling on Poshmark.
You are "rewarded" with more engagement by being more active with your Poshmark listings when you "share your listings" internally on the app. When your items are shared by other people, you are rewarded then as well.
Sharing to "virtual parties" held on Poshmark is another way to increase your visibility.
You can offer private discounts by using the "Offer to Likers" option. This will trigger an email to anyone who has "liked" your item with your exclusive offer and sale price.
You can do a "Price Drop" to lower the price. This feature will also trigger a notification to "likers" to let them know you're now offering the item at a lower price.
Buyers can leave you "love notes" which is Poshmark's feedback system.
Mercari:
Buyers can add items to their Cart to purchase later (unlike Poshmark).
The ability to Privately message between the customer and buyer. This allows users to get their questions answered quickly.
Cons of Poshmark vs Mercari
Poshmark:
The length of time it takes to "share" your closet. There are third party apps that offer sharing automation but Poshmark is explicit in saying that the use third party apps are not permitted and your closet can be shut down.
No option to privately message between buyers and sellers, like Mercari offers. You can only connect in the comment section of the item by tagging each other's usernames.
Mercari:
Less overall "users" than Poshmark
Needing to "reactivate" listings that expired after 30-days
More complicated Shipping process. Having access to a prepaid USPS Shipping label for a flat rate just makes things easier.
It's difficult to reach their customer service team. I have heard some feedback from other sellers that you may not even hear back.
Mercari doesn't include the seller in the return process for sold items until the return request has been approved. How can you defend yourself if not given the chance to?
Should you crosspost on both Poshmark and Mercari?
Absolutely! With all of the reselling app options out there, it's silly to limit yourself to just one. Not to mention, it's very time consuming to list items to one site, nevermind several.
I use the Vendoo app to crosspost to list as many items as possible and make extra money!
Here are the benefits of crossposting using Vendoo:
Save time by listing across multiple apps at one time
One streamlined Dashboard to analyze your sales data
Track your inventory easily on one place
Vendoo allows you to list items you want to sell fashion items across Poshmark, Mercari, Grailed, eBay, Depop, Etsy, Tradesy, Kidizen, and new as of April 2021, Facebook Marketplace!