5 Facts You Need To Know About Poshmark Stock, Their IPO Filing & How You Can Invest in 2021
Disclaimer: Please note that this post may include affiliate links and I will earn a commission if you make a purchase with those links. As an Amazon Associate I earn from qualifying purchases. This helps support the blog. Thanks for your support!
Read Time:
3 Minute, 30 Second
There has been a ton of buzz about when Poshmark will go public and how we will be able to buy Poshmark stock.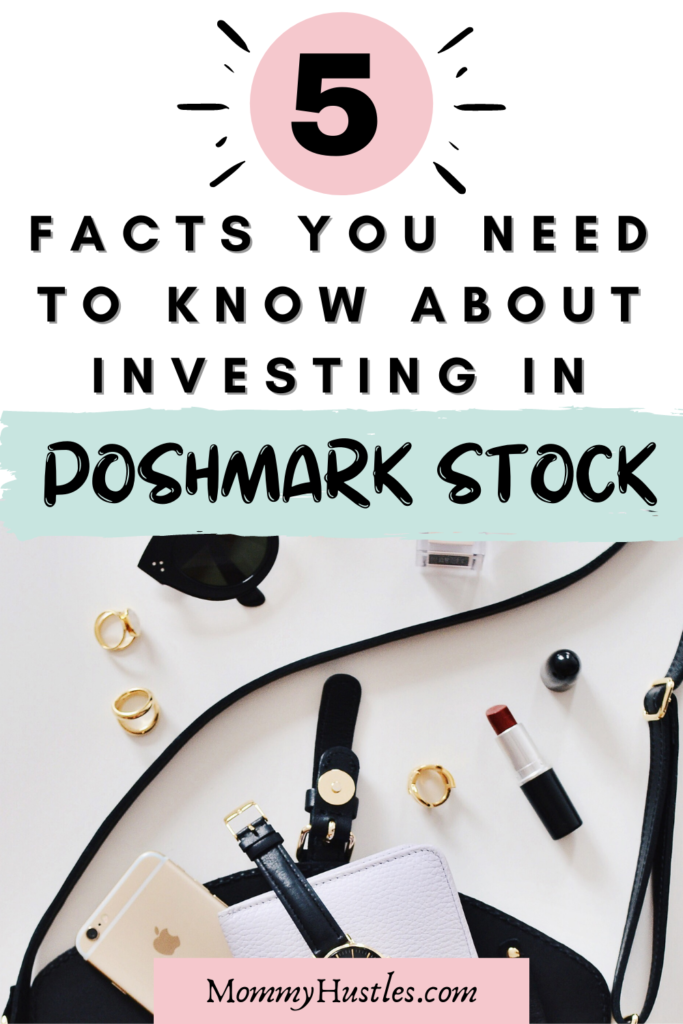 Well, it is official! Poshmark officially filed for IPO on December 17th, 2020!
You can view Poshmark's Form S-1 here: Poshmark's S-1 Filing
Starting on the same date as their filing to go public, Posh reached out to their community via email to announce an early, exclusive opportunity for Poshmark Ambassadors to purchase Poshmark stock.
As a Poshmark user since 2015, you know I was beyond ECSTATIC to hear this and apply for the program! As a leading online marketplace, Poshmark is for buying and selling new and gently used fashion.
At the time of filing, Poshmark currently has 6.2 million active buyers and 31.7 million active users, the majority of which are millennials or Gen Z.
Poshmark is by far my favorite app for reselling fashion. Sign up here using code "MOMMYHUSTLES" for a free $10 Poshmark credit to shop with!
Poshmark's Direct Share Program
Immediately after filing their application to go public, Poshmark reached out to their community to invite Poshmark Ambassadors to apply for the program.
According to their FAQ page, Poshmark will "reserve a portion of shares of Poshmark's Class A common stock for eligible "Posh Ambassadors" in the U.S. These shares will be available for a subset of eligible Posh Ambassadors to purchase at the IPO price, without paying a brokerage fee, as part of the company's IPO."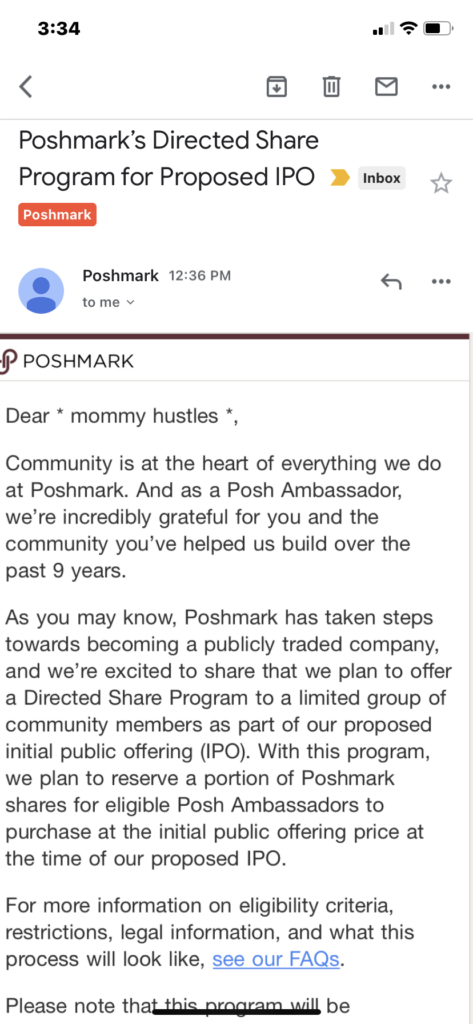 Who is considered a "Posh Ambassador"?
Posh Ambassadors who were invited to apply for the program can participate as long as they fit the below criteria:
U.S. Resident
They become a Posh Ambasssador on/before 12/2/2020
Cannot be a current or former employee of Poshmark
Have to have made 1 sale between 1/2/2020-12/2/2020 on Poshmark
You can read more about the Posh Ambassador program on earlier blog post I wrote here!
The application to apply is only open until December 23, 2020 at 11:59 PM ET (8:59 PM PT).
Not ALL Posh Ambassadors will get the opportunity to invest through their program, which they have made very clear. There is a limited amount of shares. They did say if they receive a large amount of applicants, they will invite based on the year that the Posh Ambassador joined Poshmark. I
My fingers are crossed that I'll be high on the list since I joined and have stayed active in both buying and selling since 2015!

When Can We Buy Poshmark Stock?
They are estimating that Poshmark stock will become available for the program in early January 2021. Approved applicants will be contacted directly, first by Poshmark then by the "Administrator".
They're also estimating that the minimum available under the program will be around $300.
You can check out the Poshmark Directed Share Program FAQ here.
What will the Poshmark Stock Ticker Be?
POSH will be their stock ticker. LOVE it!
Get Started With Investing
If you are new to investing in stocks (like me!) then the Robinhood app is an easy place to get started. Robinhood offers commission-free trading of U.S. stocks, ETFs and cryptos.
Would you like a free stock (up to $200 value)?! Then sign up for the Robinhood app today!
You don't need any money in your account to get your free stock. You also have a 1 in 80 chance of getting Microsoft ($218.75), Visa ($211.31), or Apple ($127.28).
Will you invest in Poshmark stock?
I'd love to hear from you in the comments below!
PS: Do you sell across multiple platforms? Vendoo is an excellent tool and game changer in the world of cross-listing. With this listing app, you can post listings on Poshmark, eBay, Mercari, Etsy, Grailed, Depop, Tradesy and Kidizen.
Let's face it, posting across more than one platform is very time consuming. But with Vendoo, you can list on ALL of them at once!